Arrest Made In Connection To Mark Fire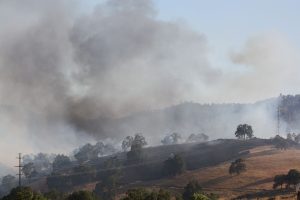 Mark Fire

View Photos
Angels Camp, CA — The Calaveras County Sheriff's Office confirms that a man was taken into custody for allegedly starting the 100-plus acre Mark Fire outside of Angels Camp.
Lt. Chris Hewitt says 29-year-old Daniel Salazar of Stockton was arrested several hours after it ignited, at approximately 9:40pm, Thursday. Salazar was initially transported away for medical care, and was later booked into Calaveras County Jail. Salazar, who had active arrest warrants out of San Joaquin County, allegedly drove his vehicle across a field on Marks Ranch Road, and it caught the dry vegetation on fire. Salazar now faces charges related to trespassing and causing a fire that resulted in damage to property. It is not immediately clear why he was in the area and driving his vehicle across the field.
Meanwhile, CAL Fire reports that the blaze is now 85% contained. Firefighters had initially estimated that it was over 140 acres in size, but now say it is 114 acres.
20 firefighters are on scene.