Several Yosemite Fires Still Smoldering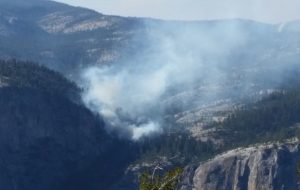 The Upper Fire - Taken From Sentinel Dome

View Photos
Yosemite National Park, CA – Still on patrol status today in the Yosemite National Park area are two fires that ignited Monday, along with six others caused by lightning that continue to smolder.
The Upper Fire, in Mariposa County, discovered by hikers Monday afternoon is now out and under investigation, according to park officials. Water bucket drops by Yosemite Helitack and fire crews were able to hold the blaze, which has been determined to be human-caused, to less than four acres. The Park Service lifted trail closures associated with the fire Thursday evening and warned that smoke might still affect air quality into the morning hours Friday.
Also located in Mariposa County, the Badger Fire was discovered by Helicopter 551 Monday in the Summit Meadows area near Glacier Point Road. Suppressed at a fraction of an acre by Wawona Engine 32, it remains in patrol status.
Currently there are no road closures in the park. Fire crews are monitoring and managing the following lightning-caused fires:
Cathedral — Located in Tuolumne County near the John Muir Trail towards Cathedral Lakes, the perimeter of this now six-acre fire is still smoldering and creeping through lodgepole pine needles and logs. Wildland fire officals say it has good potential to grow until it hits natural barriers.
Middle – Also in Tuolumne County, this fire, which may be visible from Tioga roads, is at two-and-a-half acres; located west of White Wolf and south of the Middle Tuolumne River. Now smoldering in a red fir and lodgepole pine forest, it continues to creep through biomass and vegetation.
Dark – Along the Yosemite Creek Campground Road in Mariposa County, smoke from this now nearly 42-acre fire is sometimes observable from the campground and Tioga roads, according to officials. While they report that fire crews completed securing the most active perimeter by burning along it, smoldering and creeping continues in the interior through red fire duff and needles. The nearby Luken Trail has re-opened and those traveling along the campground road should be alert and safety-conscious, as active fire crews with heavy equipment are at work in the area.
White Cascade – Less than an acre, this high elevation fire may be visible in Tuolumne Meadows. Located in Tuolumne County high-elevation lodgepole pine forest, east of Glen Aulin High Sierra Camp, east of Conness Creek and west of Tuolumne Meadows, fire officials consider its growth potential low.
Quartzite – Now contained by natural barriers, this blaze, located in Mariposa County, about a half-mile south of Merced Lake, still smolders in mountain hemlock, western white pine and lodgepole pine.
Stubblefield — Currently estimated to be about three acres, this remote, Tuolumne County-based fire is located in the northeast quadrant of the park in Stubblefield Canyon, west of the Pacific Crest Trail, a sparse vegetation area forested with red fire and Jeffrey Pines.
Wildland fires have contributed to air quality impacts across the state, including at the park. For the latest map readings, click here.