City Will Vote On Parking Restrictions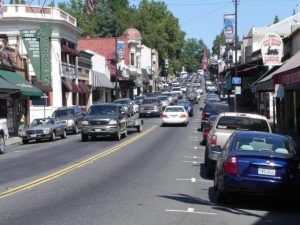 Downtown Sonora

View Photos
Sonora, CA — In an effort to allow more time for shopping and dining, the Sonora City Council will soon decide whether to increase the amount of time you can park in downtown from the current two hours to three hours.
The move was earlier endorsed by the city's Traffic Commission. Currently the two-hour rule is in effect from 9am-6pm. The Council will also decide whether to extend the three hour limit to the evening and early morning hours, so that restrictions run from 9am – 8am. It would impact portions of Washington Street, Green Street, Stewart Street, Dodge Street, Linoberg Street, Theall Street, Church Street, Gold Street and William Street. It will be up for initial discussion at Monday's meeting. The city estimates the move would cost between $600-$1,500, depending upon what type of replacement signs are selected.
In addition, the Council will formally vote to accept a 2016 Safer Grant for $179,000, which would allow for the hiring of an additional Fire Engineer for two years. Also, the City Council will hear an update on the Vision Sonora planning.
Monday's meeting starts at 5pm at Sonora City Hall.