Caltrans Paving To Cause Zigzag Detour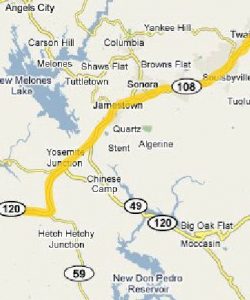 Highway 108 (Yellow), showing Yosemite Junction/120 and E Junction 49/Sonora

View Photos
Sonora, CA — Been to Chinese Camp recently? Motorists using nearby highways might find themselves briefly zigzagging through there next week via a Caltrans detour.
Those who have traveled Highway 108 between Jamestown and O'Byrne's Ferry Road are already seeing Caltrans electronic signboards that are providing an alert of a full road closure for daytime paving operations every weekday next week. If you use this stretch regularly or plan to next week, be prepared for a brief trip to Chinese Camp, where Caltrans will be sending motorists along a V-shaped detour route, using both Highway 108/120 Yosemite Junction, and the more eastern Highway 108 turnoff towards Yosemite. For those who find these instructions a little foggy, no worries; Caltrans says just follow the signed detour.
As these two short junction stretches are each fairly short, according to Caltrans, motorists should plan for at least five-minute delays while taking the detour. The work zone will be set up Monday through Friday from 8 a.m. until 3 p.m.