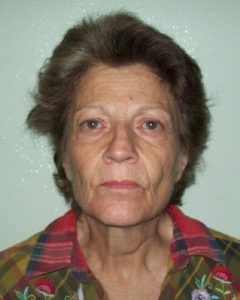 Jeane Ileen Presson

View Photos
Columbia, CA — The woman has been missing since mid-July and law enforcement is treating her disappearance as suspicious.
The Tuolumne County Sheriff's Department says 58-year-old Jeane Ileen Presson was reported missing from the Columbia Mobile Home Park on July 25, six days after she left her residence in the park on foot.  Investigators report she has not been in contact with family or friends since that day, which was Sunday, July 19th.  Asked if foul play could be a factor in her disappearance Sgt. Scott Johnson replied,"We are investigating it. At this point you can't rule out foul play." Johnson adds that the main object right now though is to locate Presson, who does not suffer from any health issues.
Presson was last seen wearing a yellow top and light-colored jeans.  Here is the Sheriff's Department description of her.
White Female Adult
5'-2" tall, 117 pounds
Gray Hair, Blue Eyes
Last Known Address: Columbia Mobile Home Park, Columbia CA
Aliases:  Jeane Ileen Erpenbach, Jeane Shelton, Jeane Anderson
Investigators are asking the public's for help to locate Presson.  Anyone with information regarding Presson or her whereabouts please contact the Tuolumne County Sheriff's Office, Attn: Detective Lowry at (209) 533-5815.