Update: Fire Weather Watch Issued For The Mother Lode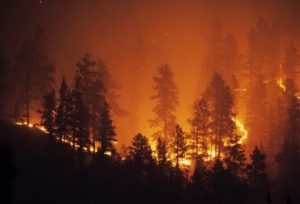 Forest fire

View Photos
The National Weather Service has issued a Fire Weather Watch for the Mother Lode, the Stanislaus National Forest and the Northern San Joaquin Valley, effective from this evening through Friday afternoon.
The potential for thunderstorms will increase over parts of Northern California from this evening into Friday. Some of the thunderstorms will be dry but will become wetter over the Sierra Nevada during the day on Friday.
Thunderstorms with dry lightning or very little rainfall are expected in the Northern San Joaquin Valley this evening and Friday morning, possibly resulting in fire starts over the dry grassy slopes on the east side of the valley.
Any storm on the east side of the valley will have a tendency to move into the Mother Lode.
Light winds and good humidity recovery in the lower elevations of the Central Valley may inhibit fire starts.
The storms are expected to end in the Northern San Joaquin valley by late Friday morning or early afternoon, and by late Friday afternoon or early evening over the Sierra Nevada.
Winds will range from five to ten mph.
A Fire Weather Watch means that critical fire weather conditions are forecast to occur which could lead to possible Red Flag warnings.