Two Pedestrians Injured In Crosswalk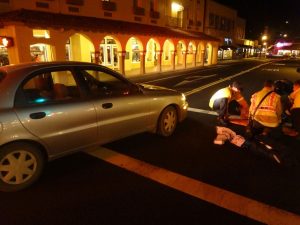 Crosswalk Injury Incident

View Photos
Sonora, CA — Yesterday, Sunday August 2 just before 10pm, two pedestrians were injured north side of the intersection of S. Washington Street and Stockton Road. The Sonora Police report that alcohol and drugs were not a factor in the incident.
The report released today says that John Martin, 65 of Sonora and Val Robertson, 59 of Sonora were both crossing within the markings of the crosswalk of South Washington Street at Stockton Road on a green pedestrian light at the time of the incident.
They were struck by a 2001 Daewoo sedan driven by 19 year old Caleb Wooldridge of Sonora; who was turning northbound onto S. Washington Street from Stockton Road. Wooldridge did not see either men and both were knocked down and injured by the car.
Robertson was transported to Sonora Regional Medical Center where he was treated for minor injuries and later released. Martin was reported as going to seek his own medical aid.