GOP: Congress Accomplishments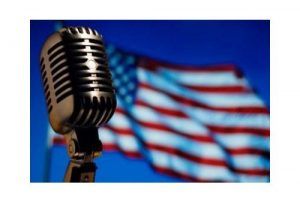 Microphone and US Flag

View Photos
This week's GOP Weekly Address  delivered by House Republican Conference Chair Cathy McMorris Rodgers (R-WA) gives an update to the people on progress being made by the new Congress.
Rodgers was Tuesday's KVML "Newsmaker of the Day".  Here are her words:
"Today I'd like to share with you some good news about the progress that Congress is making for every American.
From the start, our focus has been your priorities.  So instead of top-down bureaucrats picking winners and losers, our goal is an opportunity economy built on good-paying jobs and the freedom to innovate.
And instead of the same-old outdated models in Washington, DC, we're working on solutions that empower you to achieve a better life.
Already, we enacted the first real entitlement reform in nearly two decades.  Now, seniors will have the peace of mind to count on Medicare and taxpayers will save $2.9 trillion over the long term.
We passed the first 10-year House-Senate balanced budget plan since 2001.
We enacted new tools to fight the evil of human trafficking; new resources to improve care for our veterans; and a plan to advance American trade and promote American jobs.
We ended the bulk collection of phone data, and ensured that Congress will have a say on the bad nuclear deal with Iran.
And that's just in the last seven months. Since 2010, when you first elected a Republican majority in the House:
We cut spending by more than $2.1 trillion – the most significant spending reductions in modern history.
We protected 99 percent of Americans from permanent tax increases.
We achieved job skills reform, student loan reform, VA reform, and Medicare reform.
We stopped the transfer of terrorist detainees into the United States.
We enacted the most significant measure to help Americans with disabilities in 25 years.
And we passed the most sweeping pro-life legislation in history.
Of course, we have much more to do.
Dozens of effective solutions to deliver you real results are in the works.
For example, the 21st Century Cures Act would accelerate the discovery, development, and delivery of life-saving innovations.
The Student Success Act would take power away from the federal government so every child can have an equal opportunity to get a great education.
And we're ready to modernize the VA system with new technologies to honor our heroes with world-class care to match their world-class service.
Here's the bottom line: we are just getting started on solving problems to empower you have the opportunity to pursue your own future and reach your full potential.
Thank you for listening."
The "Newsmaker of the Day" is heard every weekday morning on AM 1450 KVML at 6:45, 7:45 and 8:45 AM.