T.C. Airport Commission To Review Cell Tower And Hotel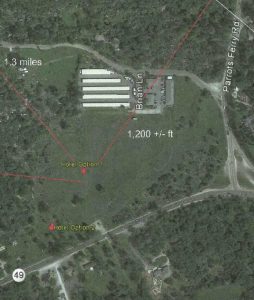 Satelite Map of Two Options For Hotel

View Photos
Columbia, CA – An 80-foot cell tower in Sonora and a possible new multi-story hotel in Columbia are up for discussion by the Tuolumne County Airport Land Use Commission next week.
The hotel would be across from the site where a controversial apartment complex was proposed in Columbia at the northwest corner of the intersection of Union Hill Road and Parrotts Ferry Road. (Site location on map in the left hand image box) However, the developer, Golden State Holdings, dropped the proposal in December of 2013 after a citizens group filed a lawsuit.  (To view an earlier story on the proposed apartment complex, click here.) That same developer is asking the commission for feedback on the possibility of building a brand name, two story, 90 room hotel on nearly 3 acres of land off Highway 49 and Parrotts Ferry Road. There are two options given for where the hotel would be built as can be viewed in the image box to the left.
Deputy Director of the Tuolumne County Community Development Department Mike Laird says, "The County has received no application. They [developer] have been trying to develop a shopping center at that location for a number of years. They're in the preliminary planning stages. He [the developer] just wants to talk to the commission and get their feedback to determine if he wants to include a hotel in the development application he would submit to the county." If an application is submitted, the Tuolumne County Planning Commission will need to approve a Site Development Permit, which their decision could be appealed to the Board of Supervisors.
However in June, the county did received an application from Verizon to upgrade a current cell tower in Sonora. Currently, the tower is 20 feet high and located at the corner of  Microtronics Way and Camage Avenue in the Sierra Industrial Park off Tuolumne Road. Laird explains, "The Airport Land Use Compatibility Plan requires that the commission review any application for a structure that exceeds 75 feet in the county to make sure it won't pose any problems for aircraft. The proposed tower is 80 feet." The proposal includes building some equipment storage units and a fence around the property.  The county's planning commission will have the final say on whether to approve the use permit for the tower.
The Airport Land Use Commission's meeting begins at 6 p.m. Thursday, August 6th, in the Columbia Airport director's office.