Drought And Wildfires Prompt Emergency Declaration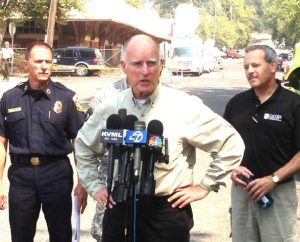 Governor Jerry Brown In Tuolumne During 2013 Rim Fire

View Photos
Sacramento, CA– Governor Brown Declares a State of Emergency in California to boost wildfire response, with blazes burning from the top to the bottom of the state.
Citing that beginning on June 17, a series of wildfires started burning in counties across the state including; Butte El Dorado, Humboldt, Lake, Madera, Napa, Nevada, Sacramento, San Bernardino, San Diego , Shasta, Solano, Tulare, Tuolumne and Yolo, on Friday afternoon Brown made the declaration to help mobilize additional firefighting and disaster response resources.
Governor Brown stated, "California's severe drought and extreme weather have turned much of the state into a tinderbox. Our courageous firefighters are on the front lines and we'll do everything we can to help them."
The order requires that all state agencies must respond to fires and the California National Guard must mobilize to help with disaster responses, if needed.
To view the Governor's entire declaration, click here