Man Brutally Beaten in Downtown Sonora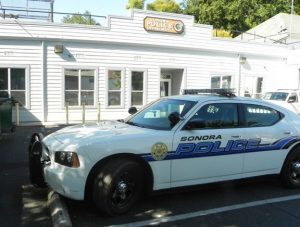 Sonora Police Department

View Photos
Sonora, CA — Sonora Police are asking the public for help to apprehend two suspects involved in a vicious assault that happened Wednesday around 9:25 p.m.
Witnessing the brutal attack going on at the intersection of South Washington Street and Linoberg Street, a person rushed into the Sonora Police Department to report it.  The witness told officers that two young men were assaulting an older male.
Once on the scene, officers report they found 57-year-old Thomas Fulton, of Sonora badly beaten and lying on the sidewalk.  He was bleeding from his face and head.  Initially, Fulton was taken to Sonora Regional Medical Center, but due to the severity of his injuries, he was later transferred to a Modesto area hospital; listed in stable condition and alert, according to police. Chief Mark Stinson says, "We believe he was just punched or kicked in the face but we're still not sure. We're still trying to determine if it was just a physical, hands and maybe feet. or if there was a weapon involved, but at this point, it does not appear a weapon was used."
Detectives have no motive for the beating as a search of the area resulted with no arrest.  Investigators are asking that anyone with information regarding the attack, to contact the SPD at 532-8141.