Local Cal Fire Assets Busy On Back Up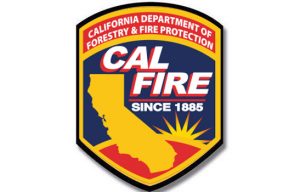 CAL Fire Logo

View Photos
San Andreas, CA – When Tuolumne and Calaveras counties have a respite from wildfire incidents, the region's locally assigned Cal Fire crews stay busy, covering for other counties' units with their hands full.
As of this moment, says Cal Fire spokesperson Lisa Williams, "We have three strike teams of crews out; one assigned to the Wragg Fire, one to the Willow Fire and one to the Lowell Fire." She quickly adds, "And…we also have three strike teams of engines out; one assigned to the Queen Fire, one to the Wragg Fire and one to the Lowell Fire. Our resources are assigned to the incident but they may not be directly on the fire line — they could be covering other units within that area."
Elaborating, Williams explains, "In the hand-crew instance, they would be in the local camp, covering those counties…the strike teams, those engines could be in the local stations, covering those areas and local incidents, while the other resources are actually fighting the [wild]fire."
The Lowell Fire, west of Alta, in Nevada and Placer counties, is currently at 2,233 acres and 30 percent contained, according to Cal Fire. The Willow Fire, southeast of Bass Lake, in Madera County, is being administered by the US Forest Service-Sierra National Forest, which reported five percent containment this morning at 1,739 acres.
Cal Fire also reports the Wragg Fire, in Napa and Solano counties near Lake Berryessa, as at 6,591 acres and 80 percent contained; and the Queen Fire, in Humboldt County, southeast of Pecwan, at 158 acres and 42 percent containment.
With the temperatures again on the rise, along with keeping hydration and whatever  medical aids that might be necessary top of mind, Williams warns, "We just need people to be cognizant of their daily actions, what they are doing and how they go about doing it. Please don't park in tall dry grass — carburetors or hot engines can spark fires."