More Fires Burn: Less Acreage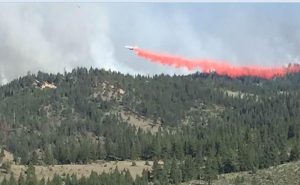 Washington Fire In Alpine County

View Photos
The number of fires that have ignited in California this year is up by 10% compared to this time in 2014, but the amount of acreage burned is down by 6%.
The Associated Press reports that 5,200 fires have ignited since January 1st, totaling 74,000 acres. Fire officials are citing that summer rain storms in the Sierra Nevada have helped squelch some of the larger fires. In addition, CAL Fire was able to fund hundreds of additional firefighters due to emergency drought funding.
The largest fire in California this year has been the Lake Fire in the San Bernardino National Forest that burned 31,359 acres. The second biggest has been the Washington Fire in Alpine County at 17,790 acres.
California still has a long way to go before the end of the traditional fire season. In 2013 the 257,000 acre Rim Fire ignited on August 17th and in 2014 the 97,000 acre King Fire in El Dorado County ignited on September 13th.