Updated: Fire At Multi-Family Structure In Sonora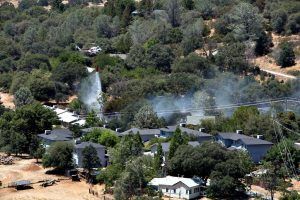 July 27th Fire From Top of Gibbs Drive
Updated at 1:50pm: Firefighters made quick work of a fire at a multi-family residence in the area of Jamestown Road and Sunshine Hill Road. The air tankers have been called off and are returning to base. The fire has caused extensive damage to the building, and fire crews will be in the area throughout the afternoon. No injuries have been reported at this time, and the cause is under investigation.  The Red Cross is responding to assist some of the displaced residents. Expect activity in that area.
Special thanks to our community news partners Gary Johnson, Roy Bartholomew, and Sheila Howell for emailing photos. Pictures can be sent to news@clarkebroadcasting.com.
Original Story at 1:20pm: Sonora, CA — There is a fire reported at a multi-family residential building on Jamestown Road near Sunshine Hill Road.
Several resources are responding from both the air and ground. Smoke is visible in that area. We'll pass along more information as it comes into the news center.