Dillashaw Defends UFC Title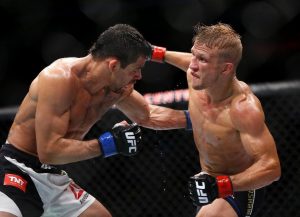 T.J. Dillashaw (R) lands a punch against Renan Barao (L)

View Photos
Chicago, IL — Angels Camp native T.J. Dillashaw defended his UFC bantamweight title over the weekend.
Officials stopped the fight against Renan Barao in the fourth round, and Dillashaw was named the winner by technical knockout. Barao was able to knock Dillashaw down in the first round, but the champion came back strong, landing a series of punches in the fourth round, which ended the fight.
At a press conference afterwards, Dillashaw said, "He brought it in the first round. He set the pace fast early, and I almost went a little too fast because of it. I should have been a little bit more controlled, but it was a fun fight."
It was a rematch of the May of 2014 fight in which Dillashaw upset Barao to first become the bantamweight world champion. The Bret Harte High School graduate soon became the toast of Angels Camp, and the Mayor declared "T.J. Dillashaw Day" a couple of months later during special homecoming celebration.
Saturday's fight was held in Chicago.