Update: Columbia House Destroyed In Fire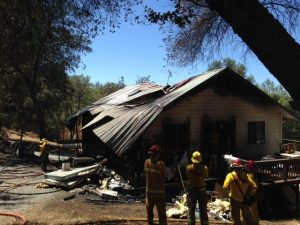 Columbia House Fire

View Photos
Update Sunday, 8:40 a.m.:  Speacial thank you to our community news partner Dean Fisher for sending in these photos.
Update 2:25 p.m.: Cal Fire reports the home is a total loss with damage estimated at $200,000. There is no word on what sparked the blaze and Cal Fire says it's under investigation.
Update 12:50 p.m.: Cal Fire confirms the house fire has been contained.
Update 12:05 a.m.: Cal Fire dispatch confirms the small vegetation fire has been contained. Also, additional resources are being called off the blaze as firefighters are knocking down the house fire.
Update 11:50 a.m.: Cal Fire reports power lines are down in the area. PG&E crews are heading to the scene.
Original Post 11:30 a.m.: Columbia, CA — Firefighters and Columbia Air-Attack are battling a house fire in the Columbia area.
The flames broke out on the 24000 block of Experimental Mine Road, off Italian Bar Road. Cal Fire reports a third of the home is on fire and flames have spread to nearby vegetation, but there is no size at this time. Also, there is no word on whether any people were in the home when the flames broke out.