Summer Events That Entertain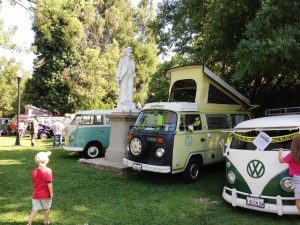 Utica Park Mother Lode Volkwagen Show and Swap Meet

View Photos
Several summer events involving cars, art, food, music and wine are scheduled for this weekend in July.
The Twain Harte Area Chamber of Commerce presents its annual Wines in the Pines, along with the town's Art and Wine Festival, at Meadow Plaza in Twain Harte. Wines, foods from local vendors, live music and more will be featured both days. For tickets and times the wine tent is open view the event listing here.
Jamestown has its own celebration this weekend with the Rods To Rails Car Show. Rocca Park will be rockin' and rollin' with a special appearance from Elvis himself at noon. Main Street will be closed from 7:00am until 3:00pm to display antique and classic cars, all pre-1973. The Jamestown Family Resource Center will be hosting a Pancake and Eggs Breakfast. An old time horse and carriage will take you to Railtown, and the Kiwanis club will cook up their fine foods.
Mother Lode Volkwagen Show and Swap Meet will be held again at Utica Park in downtown Angels Camp. The family event is hosted in conjunction with the Tri-Dam Lions Club and features a participant-judged show of VW bugs and busses, music, food and more.
At the fairgrounds will be the California Deer Association Banquet & Fund Raiser.  The California Deer Association's (CDA) banquet will raise money to support their mission: to increase the health and population of California's deer herds through conservation efforts that improve habitat for deer and other wildlife.
Four classes are offered to the public at the Innovation Lab in Downtown Sonora this Saturday: Basic Computer Coding Class, Advanced Computer Coding Class, Front End Web Development, and a Raspberry Pi Class. Staff is available from 1pm to 6:30pm and next week and alternating weeks the class The Science And Engineering Behind Automotive Mechanics And Fuels is offered from 3:00 pm – 4:00 pm.