Update: Mudslide Closes Highway 140 Entrance To Yosemite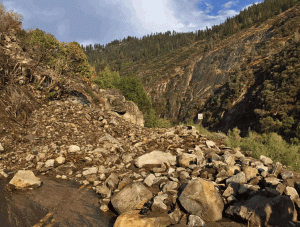 Mud And Rock Slide In Yosemite

View Photos
Updated: 1:05 p.m.: In addition to the temporary closure of the Yosemite Highway 140 entrance, motorists should be aware that vehicles over 45 feet are currently prohibited. The highway, from 20 miles east of Mariposa remains under one-way traffic control 24/7 as slide repairs are being made.
Yosemite, CA — Yosemite National Park Spokesperson Scott Gediman says no one was injured in a mudslide yesterday that closed the Highway 140 entrance into the park.
Areas around the Sierra Nevada, including Yosemite, received heavy rainfall when a storm system passed through. The area impacted by the slide, along El Portal Road, is where a large wildfire occurred last summer, which made the ground more susceptible for a mudslide. Gediman notes of storm system, "On the positive side, it's brought new life to the waterfalls."
Yosemite officials are cleaning up the slide and it is unclear when the Highway 140 entrance will reopen, but it could be as early as this afternoon.