More Sierra Thunderstorms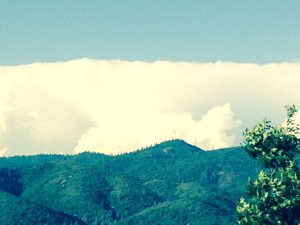 Sierra thunderstorms

View Photos
According to the National Weather Service, strong thunderstorms are possible over the crest of Sierra Nevada this afternoon and evening.
Unstable conditions and remnant moisture from ex-tropical storm Dolores produced numerous thunderstorms over the Sierra Nevada range on Monday.
Some of these storms became severe and produced large hail and frequent lightning.
Counties that were affected included Tuolumne, Calaveras, Mariposa, Alpine and Amador.
Conditions are similar today, so severe thunderstorms will be possible this afternoon over the higher elevations of the Sierra Nevada range.
Some of these storms could produce hail in excess of one inch in size as well as strong gusty winds and frequent lightning.
If you can hear thunder, you can be hit by lightning. If thunderstorms form in your vicinity, take shelter. If caught outdoors, do not take shelter under isolated trees and move down from ridgelines.
Continue to monitor mymotherlode.com for the very latest conditions.