Update: Flash Flood Watch Expires at 11 PM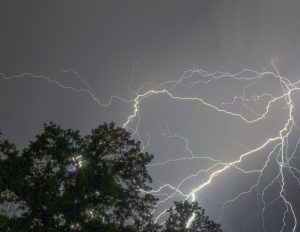 Tuolumne Lightning

View Photos
A Flash Flood Watch remains in effect for the Sierra Nevada through 11 pm.
According to the National Weather Service, moisture from Tropical Storm Dolores continues to spread into the Sierra Nevada. The main threat area remains above 4000 feet.
Slow moving thunderstorms with heavy downpours will continue to bring the potential for flash flooding including mud and debris flows to the watch area.
Recent burn scar areas will be vulnerable to flash flooding.
There is a chance that on Tuesday the same area may once again experience intense heavy rainfall from thunderstorms.
A Flash Flood Watch means that conditions may develop that lead to flash flooding. Flash flooding is a very dangerous situation. Outdoor recreationalists should be prepared to move to higher ground should threatening weather approach.