Update: Sierra Nevada Flash Flood Watch Continues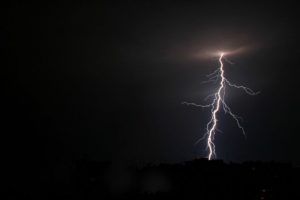 Lightning at night

View Photos
At 3:15 pm Doppler radar was tracking a strong thunderstorm near Lookout Peak, or nine miles east of Lake Alpine, moving northwest at five mph.
Winds in excess of thirty mph will be possible with this storm.
Locations impacted include Bear Valley and Tamarack.
Torrential rainfall is also occurring with this storm and may lead to flash flooding. Do not drive your vehicle through flooded roadways. Frequent cloud to ground lightning is occurring with this storm. Lightning can strike 15 miles away from a thunderstorm. Seek a safe shelter inside a building or vehicle.
The National Weather Service has issued a Flash Flood Watch for the Sierra Nevada through 11 pm.
Moisture from Tropical Storm Dolores, in the eastern Pacific, continues to spread northward into the Sierra Nevada. The main threat area is above 4000 feet.
Slow moving thunderstorms with heavy downpours will continue to bring the potential for flash flooding including mud and debris flows to the watch area.
Recent burn scar areas will be vulnerable to flash flooding.
There is a chance that on Tuesday the same area may once again experience intense heavy rainfall from thunderstorms.
A Flash Flood Watch means that conditions may develop that lead to flash flooding. Flash flooding is a very dangerous situation. Outdoor recreationalists should be prepared to move to higher ground should threatening weather approach.