Grants Available For Local Forest Projects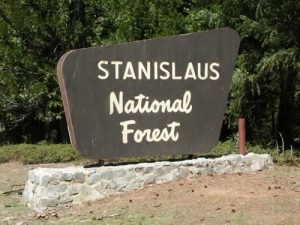 Stanislaus National Forest

View Photos
Sonora, Ca — Residents in two Mother Lode counties might grab a piece of a $92,000 pie, should their proposals qualify for land grant funds.
The Tuolumne and Mariposa Counties Resource Advisory Committee (RAC), along with the Stanislaus National Forest, are doling out the funds.  Forest Service Spokesperson Georgia Dempsey explains, "It's for doing projects either in the national forest or on adjacent lands. It can include things like doing road, trail or infrastructure maintenance, improving soil productivity and forest ecosystems. There's all kinds of good stuff involved with it."
The committee, founded under the Secure Rural Schools and Community Self-Determination Act, is made up of local community representatives, according to the Forest Service, and works with officials from the Stanislaus National Forest for funding. Additionally, the committee reviews and recommends projects to the counties' boards of supervisors.
Dempsey adds that the projects could mean some jobs for the area as well. She says, "This is definitely a win-win situation. This is putting good people to work doing good projects that help the landscape. I don't know how you can do any better than that." Those who submitted projects will get a chance to present their proposals to the RAC at a meeting on Monday, August 31, at the Sonora City Fire Department (201 South Shepherd Street), in Sonora from noon until 3 p.m.
The deadline for proposals is Friday, July 31. Click here for an application.
Here is the Forest Service's complete list of project criteria:
Provides road, trail, infrastructure maintenance;
Improves soil productivity;
Creates improvements in forest ecosystems;
Restores and/or maintains watersheds;
Creates employment opportunities;
Re-establishes native species;
Controls noxious and exotic weeds; and
Restores, maintains & improves wildlife and fish habitat.