Friday And Weekend Events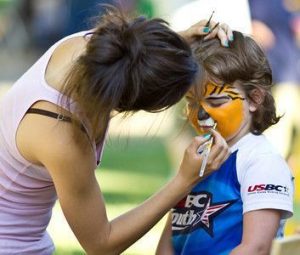 Facepainting at Farmers Market in 2011

View Photos
July is already more than half over and there are many big events happening in Calaveras this weekend. The Angels Camp Farmers Market begins at 5:00pm today. July 17th is Kids Night, with activities geared for kids of all ages. Candy Myers, Market Manager says, "We will still have our regular vendors set up at the market, including our certified produce vendors, food vendors, and crafts booths, along a few additional booths more focused on children. Our goal is to make the night fun for everyone."
Entertainment will be provided by artists BZ Smith and Peg Reza, featuring storytelling, singing and ukulele playing. Moore's Martial Arts School will do Karate demonstrations throughout the evening.  Games including a scavenger hunt, prizes, face painting, and food. All the submitted Friday events are in our event calender here.
Murphys in Motion will be performing several times at the Black Bart Playhouse/Murphys Creek Theatre this weekend. The details are here.
11th Annual Arnold Classic Car Show is this Saturday from 10:00 am – 4:00 pm at the Cedar Center.
Saturday the Murphys Homecoming will kick off with the Calaveras Community Band at 11:30 am.  Other activities will include the Old Timers Luncheon for local residents who are at least 70 years of age and have lived in the area for ten years or more. There will also be the duck race that benefits the Calaveras Youth Mentoring Foundation. The Murphys Community Club will be selling food and drinks.
Columbia State Historic Park will be dancing at 6:00pm at the Big Band Street Dance. The Columbia College Kicks Big Band will play for the 1940's costume event, but you don't have to dress up. Prizes are awarded for best '40s outfits, best dancing couples, and much more. VIP table proceeds benefit Friends of Columbia, details are here.