State Fair Honors Local Counties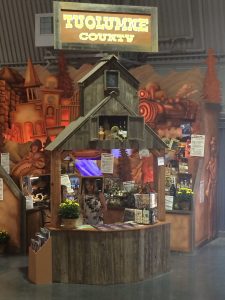 Tuolumne State Fair Exhibit 2015

View Photos
Several local counties won gold and silver for their exhibits at the 2015 California State Fair. The Tuolumne County Visitors Bureau received a Gold Ribbon for the County exhibit with this year's theme 'Feasts and Festivals.'
Every year the Tuolumne County Visitors Bureau (TCVB) enters the Counties Exhibits to promote Tuolumne County to thousands of fairgoers. Anna Davies, Special Projects Coordinator for the TCVB says, "The design this year was unique to anything else we've ever seen at the State Fair. We used a relief art concept in building the exhibit which gave it a special artistic touch."
The 2015 Tuolumne County exhibit was created with designer and builder Richard Bay to highlight locally grown and produced products, annual events and iconic landmarks like; Column of the Giants, Railtown, Me-Wuk history and artifacts, Gold Rush history and historic buildings. Victoria Smith, local 4-Her, gave the County presentation to the judges.
Neighboring Mono county was also one of the nine Gold ribbon winners. Mono county's booth also took home the ribbon for 'Best Use of Products, Produce or Artifacts.'
The Calaveras' exhibit sponsored by the Calaveras Visitors Bureau & Film Commission earned an impressive Silver ribbon. Lisa Boulton, Calaveras Visitor Bureau Executive Director says, "I am very delighted for Tuolumne County and very proud of our Calaveras booth too." Calaveras was one of 14 county booths, including Stanislaus and Amador, who won a Silver ribbon. Boulton noted, "It is the first time in forever [Calaveras didn't earn a Gold ribbon] …and the booth, quite honestly, is just adorable. It is actually my favorite booth that we have done." The booth features a miniature convertible on a road trip through Calaveras county area attractions.
All the exhibits are available to see until the last day of the Fair, July 26th at Cal Expo in Sacramento.