Update: San Andreas Fire Contained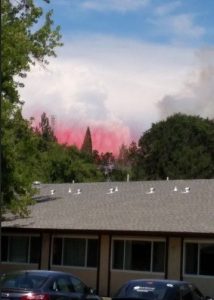 Fire on Jeff Tuttle Drive, San Andreas

View Photos
Update 3:50 p.m.: Cal Fire spokesperson Lisa Williams reports the five-to-ten-acre fire is 100% contained. Resources will remain on scene for the next couple of hours to mop up. Williams says the original call reported the fire behind the sheriff's office, but it was actually further away and that the office and new jail were not threatened by the flames. The fire is under investigation, but does not appear suspicious, according to Williams. Resources  that assisted in battling the blaze included San Andreas Fire, Mokelumne Hill Fire,  and Calaveras Consolidated Fire.
A special thanks to our community news partner C Gerhart for sending in the photo.
Update 3:25 p.m.:  Cal Fire spokesperson Lisa Williams reports the structure threat has been mitigated and the forward spread has been stopped. She adds, "There is still active fire on the ground and resources are continuing to work the area. Two air-tankers have been released, but we still have the helicopter and air attack on scene."
Resources on scene also include 73 firefighters, 11 engines, a dozer, two hand crews and two  water tenders. No cause has been determined as to what sparked the blaze and the fire is under investigation.
Update 2:50 p.m.:  Cal Fire spokesperson Lisa Williams reports the fire is now 5 to 10 acres in size and structures are threatened, but there are no evacuations at this time.
Original Post 14:24 p.m.: San Andreas, CA — Firefighters are the scene of vegetation fire in Calaveras County behind the Sheriff's Department and new jail.
The flames broke out just after 2 p.m. on the 1000 block of Jeff Tuttle Drive. Cal Fire spokesperson Lisa Williams says, "It's approximately two-acres in grass and oak woodland type if vegetation."
Columbia Air-Attack is heading to the scene. Already, four engines are battling the blaze. There is no word on what sparked the flames or if any structures are threatened.