A Closure And Shuttle Service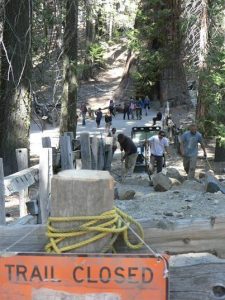 Mariposa Grove Restoration Project

View Photos
Yosemite, CA — Yosemite National Park will be shutting down one popular site, while offering rides to another.
On Monday, July 6, restoration of the Mariposa Grove of Giant Sequoias Project will ramp up forcing a temporary closure of the Mariposa Grove. Park officials say the shutdown could last for two years depending on the progress of the project, which began last summer. It will restore the giant sequoia habitat and hydrology. The work also includes improved restroom facilities, parking, and adds accessible trails. When completed, visitors will be able to catch a shuttle service from the park's South Entrance to the Mariposa Grove. The closure restricts all public access including bicycle, pedestrian traffic along with hiking trails in the Mariposa Grove.
Additionally, on Monday another shuttle service will start. The route is from Badger Pass to Glacier Point. It is free; visitors can jump on board at the Badger Pass parking area between 10:00 a.m. and 4:30 p.m. The 30-minute ride includes stops at Sentinel Dome/Taft Point Trailhead and Washburn Point, according to Park officials, who add visitors can request that stops at McGurk Meadow, Ostrander Lake, and Mono Meadow Trailheads.