Where To Light Up In Angels Camp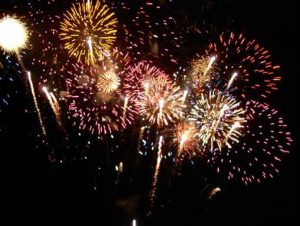 Lake Don Pedro Firework (file photo)s

View Photos
Angels Camp, CA — The public is encouraged to have a "safe and sane" celebration this Four of July and revelers are offered a place to shoot off their fireworks in Angels Camp.
The city allows "Safe and Sane" fireworks on private property and there is another option — the Bret Harte High School Sports Center.  Residents can ignite the fireworks in the parking lot on Murphys Grade Road from 6 p.m. to 10 p.m. on the fourth. Firefighters will be on scene to make sure the event is going smoothly.
A reminder, legal fireworks have the "Safe and Sane" logo from the California State Fire Marshal on the packaging. However, fire officials have found forged logos on illegal fireworks in the past. Illegal fireworks consist of those that explode, leave the ground, or move about uncontrollably, such as skyrockets, bottle rockets, and roman candles. Those caught with illegal fireworks can face a range from a misdemeanor to felony charges. Residents can contact the local fire station for questions regarding fireworks.
City officials warn the drought conditions make it very susceptible to fire, so, use fireworks responsibly.