Grab Your Pole, Fishing Is Free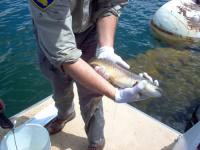 Fishing

View Photos
Sacramento, CA —   State officials are giving the public a pass this Independence Day by not charging for fishing.
The California Department of Fish and Wildlife (CDFW) report the public needs no license to cast a line on the Fourth of July holiday. It is one of two days throughout the year that the department allows anglers a free pass. The next no fee day will be on Labor Day, Saturday, September 5.  Wildlife officials want first-timers to have a chance to try the sport and encourage licensed anglers to take the opportunity to teach family and friends.
All of the usual fishing rules remain in effect including bag and size limits, gear restrictions, report card requirements, fishing hours and stream closures. The CDFW also reminds every angler must have an appropriate report card if they are fishing for steelhead or sturgeon anywhere in the state, or salmon in the Smith and Klamath-Trinity river systems.