Independence Day: CHP Will Be Out In Force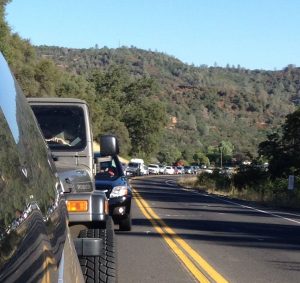 Traffic

View Photos
Sonora, CA — The Mother Lode is expected to be a popular weekend destination, so heavy traffic is anticipated.
Sonora area CHP Officer Nick Norton predicts that traffic will start to pick up around noontime today, in anticipation of Independence Day camping and recreating. The CHP will begin a Maximum Enforcement Period starting at six o'clock tonight, and it will continue through Sunday at 11:59pm. All available officers will be on the highways. On Sunday afternoon, officers will notably monitor the Highway 108/120 intersection, as several Yosemite National Park visitors will be heading home at the end of the weekend, and traffic control is sometimes needed.
Independence Day is traditionally one of the more dangerous holidays to travel. Statewide, the CHP reports that 32 people were killed in vehicle accidents last year over Independence Day weekend. 1,300 people were arrested for driving under the influence.