Downtown Driving Already Smoother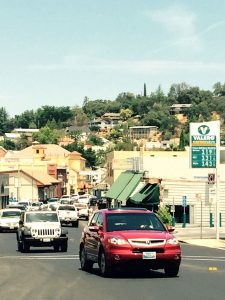 Downtown Sonora

View Photos
Sonora, CA — Amid a few grumbles from impacted late night drivers and early morning commuters, the repaving of downtown Sonora city streets is rolling forward on schedule.
The long-awaited project, which began June 22 is scheduled to complete sometime during the week of July 12 using crews working from 7 p.m. until 7 a.m. Sunday nights through Friday mornings. The scope includes a major paving makeover of South Washington St., between Stockton St. and south of Hospital Road; Restano Way; Stewart St., between Restano Way and Lytton St.; and a section of Mono Way from Restano Way.
Last week's prep work involved pavement grinding, lowering utility and storm manholes, and replacing traffic signal detector loops at the Restano Way signals. Paving, underway this week, is scheduled to wind up with a flourish of temporary travel way striping.
Currently, reflectors are in place along the middle of the South Washington St. roadway, as pictured in the upper left image box. According to City of Sonora Project Engineer Jerry Fuccillo, by the end of this week, motorists will have probably experienced the biggest disturbance of traffic.
In the two weeks following the Fourth of July holiday weekend, work crews plan to tackle paving miscellaneous areas, raising utility manholes and boxes to grade, and final striping chores. Even with the project in mid-stage, motorists now driving through the downtown areas during daytime hours and weekends can enjoy a much smoother ride.