Record Road Travelers This Fourth Weekend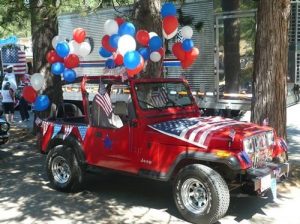 Arnold Fourth of July Parade

View Photos
Emeryville, CA — With America's birthday falling on a Saturday, nearly ten percent of Californians are packing up their vehicles. Can you say "road trip?
According to travel experts, more than 3.8 million California travelers are expected to hit the highways and travel 50 miles or more in celebration of the Independence Day holiday weekend, an uptick of nearly a half-percent from last year. It will be the highest number of Fourth of July holiday motorists since 2010, when Independence Day fell on a Sunday. For many, it will be their first summer vacation.
More than an additional half-million Californians will take to the skies to reach their holiday destinations, which is a nearly two percent rise over 2014 travel figures; another 424,000 who tap other transportation modes such as rail, bus and watercraft will represent a down-trend of close to a half-percent.
"Overall, Californians are traveling in record numbers, driven by a stronger economy and rising income," explains Cynthia Harris, AAA Northern California spokesperson. She adds that, irrespective of recent fuel price spikes, this coming three-day weekend provides "a welcome pause" for a quick getaway. Click here for the latest Mother Lode gas prices. (You may also access them from the myMotherLode.com home page by entering "gas" in the keyword box.)
Across the nation, AAA forecasts more than 41 million people will travel 50 miles or more during the Fourth of July holiday weekend, up nearly three-quarters of a percent from last year. Estimated holiday weekend airfares are down six percent with the lowest average round-trip rate to the top 40 U.S. air routes running around $227, according to the AAA Leisure Travel Index. Conversely, hotel rates at AAA Three Diamond lodgings are said to be up by that amount and averaging $195 per night.
Harris says that this year, through its "Tipsy Tow" program, AAA Northern California, Nevada and Utah is offering free tows with one-way rides home of up to ten miles for drinking drivers from 6 p.m. July 4 through 6 a.m. on July 5. The service is available both to members and non-members by calling 800 222-4357 (AAA-HELP).