Mother Lode Winemaker Suffers Severe Stroke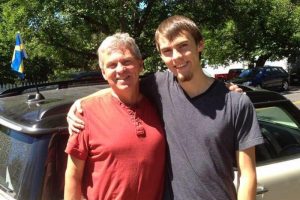 Mother Lode Winemaker Chuck Hovey, with son Kyle Hovey

View Photos
Murphys, CA — A local resident who is, perhaps, the Mother Lode's best-known and certainly among its most highly regarded winemakers is recovering in an intensive care unit as a crowd-source funding effort launched in his support today.
Currently under treatment at the UC Davis Medical Center is Chuck Hovey, who, for two decades made Stevenot Winery's wines; has since 2008 run Hovey Wines, in downtown Murphys; and is currently the consulting winemaker for Jamestown's Inner Sanctum Cellars and Gianelli Vineyards, and Murphys-based Bodega del Sur Winery.
According to the gofundme page set up today by his son Kyle, Hovey suffered a sudden severe stroke last Thursday afternoon. While he was able to be transported to the hospital within three hours of the event, a craniectomy was required to relieve brain swelling. As recovery from the operation and subsequent supportive medical care physical therapy needs are expected to generate sizable hospital bills, Kyle launched the funding effort in the early hours this a.m.
Contacted today about the incident, Inner Sanctum Cellars co-owner Karen Luckhardt says the news is still a shock to everybody. "We're a very tight-knit wine community over here in Tuolumne County," she explains. She adds, "I think I can speak for everybody — we're very worried about Chuck and we're all praying…we know we'll get through this and we're praying that Chuck will get through this…anything that anybody can contribute will be greatly appreciated."
Sixteen hours and 64 donors later, the gofundme campaign has already reached $7,280 of its current $10,000 goal. For more details on and to support the effort, click here.