Updated: Grass Fire On Highway 108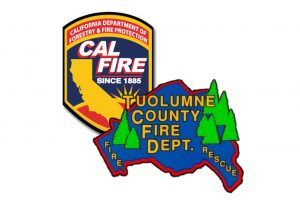 Cal Fire - Tuolumne County Fire Department Logo

View Photos
Updated at 1:05pm: The grass fire near the Highway 108 and 120 intersection remains 1/2 acre. Traffic is moving through the area, but CAL Fire asks that you slow down and use caution because several engines will remain on scene throughout the afternoon doing the mop-up.
Original Story At 12:24pm: Tuolumne County, CA — Firefighters have quickly stopped the forward rate of spread of a grass fire along Highway 108.
It is near the intersection of Highway 120. Air and ground resources were dispatched to the incident, and many of the initial responders are now being released back to base. What sparked the blaze is under investigation. Expect some activity if traveling on Highway 108.