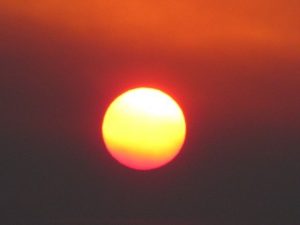 Sunrise

View Photos
High pressure will strengthen over Northern California. The hottest temperatures will be Tuesday through Thursday. The potential for heat illness will peak Wednesday and Thursday.
According to the National Weather Service, enhanced thunderstorm potential will increase Thursday and Friday as monsoonal moisture spreads over Northern California. Some cloud cover may bring relief Friday into the Holiday weekend.
The concerns and impacts of this week's dangerous heat with thunderstorm activity include:
Heat related illness if action is not taken.
Hot and dry conditions have primed fuels for enhanced fire danger.
Lightning from thunderstorms could cause new fire starts.
The forecast confidence for very hot temperatures is high.
The forecast confidence for very warm overnight low temperatures is medium.
The confidence for thunderstorms is high for the mountains and low for central valley.
The greatest heat impacts will be this Wednesday and Thursday.
The greatest thunderstorm and lightning potential is both Thursday and Friday.