Update: Jamestown Fire Power Outage Extended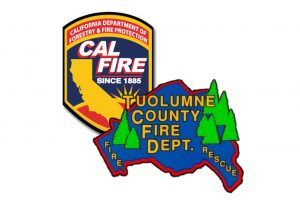 Cal Fire - Tuolumne County Fire Department Logo

View Photos
Update 4:20 p.m.: PG&E has revised its repair time to 11:30 p.m. for the nearly 340 without power in the fire area. Already the have been without electricity for around four hours.
Update 4 p.m.: The CHP reports Harvard Mine Road has reopened to traffic as the fire has been contained at one acre. Nearly 340 PG&E customers remain without electricity. Crews are working to repair the power lines brought down by a tree. PG&E has estimate power will be restored by 6:30 p.m.
Update 2:30 p.m.: PG&E reports about 344 customers in the area of the downed lines are without power. PG&E has given and estimated time of repair of 6:30 p.m.
Update 2 p.m.: The CHP reports Harvard Mine Road is closed, but it is not impacting traffic on Highway 108.
Update 1:30 p.m.: Cal Fire reports the size of the fire has increased from a half an acre to an acre in size. However, crews have managed get a hose line around the flames.  PG&E has been called to the sceen to repair thsoe lines. Motorists will want to use caution in the area.
Original Post 1:05 p.m.: Jamestown, CA — Firefighters are on the scene of a vegetation fire near Jamestown and there is a threat to a structure.
Cal Fire reports the flames broke out in the 17,900 block of Harvard Mine Road off of Highway 108.  The fire is a half an acre in size. Additionally, power lines are down at the scene due to a tree that has fallen onto those lines. Cal Fire confirms one structure is threatened at this time as the grass fire continues to burn.