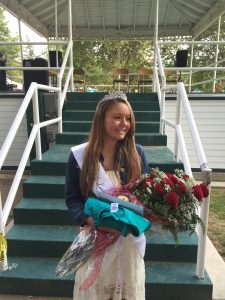 Sarah Caldera 2015 Lumber Jubilee Queen

View Photos
Tuolumne, CA — The 66th Annual Lumber Jubilee in Tuolumne crowned its new queen Friday night.
After a rigorous obstacle course, including jumping over logs, starting a chainsaw, hammering a nail into a log, and throwing firewood over a large log into a wheel barrel then racing the hefty load to the finish line — 14-year-old Sarah Caldera earned the title of 2015 Lumber Jubilee Queen.
Caldera competed against two other contestants, Makayla Wyhlidko and Anna Morgan. Additionally, all had to give a speech be able to name three types of wood, which Caldera passed with flying-colors.
The festivities continue Saturday with a parade at 10 a.m. and the carnival begins at 11. Other events on Saturday include arm wrestling contests, a junior tug of war and a hot dog eating contest. Sunday will also feature several logging events including ax throwing, crosscut sawing contests and conclude with the annual tug of war.
Click here for more details on the event's schedule.