Coming Soon, Nearly $1M In Rumble Strips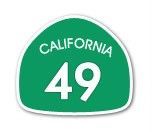 Hwy 49

View Photos
Stockton, CA — A chunk of state transportation funding is headed towards two Mother Lode roadways.
Today, the California Transportation Commission (CTC) allocated $561 million to 125 transportation projects across the state. In Calaveras and Amador counties, $919,000 of it has been earmarked to cover the installation of shoulder and centerline rumble strips at various locations along Highway 26 and Highway 49 in a targeted effort to improve safety and reduce collisions along those roads.
Nationwide data supports the use of rumble strips as a safe, cost-effective, quick-to-install way to increase motorist safety. As research findings indicate the majority of accidents involve some kind of driver distraction or inattention, rural and urban road use of rumble strips to provide motorists with a sort of early-warning system is on the rise in 30 states, including California.
Along with addressing some of the necessary renovations and maintenance to state and local transportation infrastructure, the overall funding includes nearly $8.5 million for 32 biking and pedestrian projects through the Active Transportation Program, which supports alternate forms of transportation. As Malcolm Dougherty, Caltrans director, explains, "We are working, to not only preserve our investments in the state highway system, but are also investing in projects that expand the availability of bike and pedestrian access throughout the state." He adds that allocations like those made today will help ensure the state's transportation system will continue to support and benefit Californians in the decades ahead.