Vintage Legacy Plates For Drivers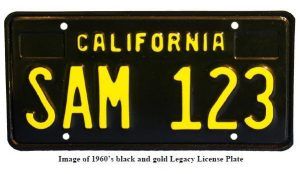 Image of 1960's black and gold Legacy License Plate

View Photos
Sacramento – California drivers want to relive the 1960s? Now a vehicle can reflect a time when cars cruised with the 1960s Legacy License Plate. The bill that established the California Legacy License Plate program was chaptered in September 2012. The deadline to reach the required 7,500 pre-orders of the plates was January 1, 2015. The DMV couldn't implement the program until the pre-orders requirement was met, but fortunately it was met with a few months to spare. According to a DMV spokesperson it takes 9-12 months to start a new plate program.

The plates can be ordered now, but personalized plates, which take longer to make, hit the streets in August. Customers picking up personalized plates, are reminded to bring their old license plates and registration card with them.

The California Department of Motor Vehicles (DMV) already mailed out the first set of pre-ordered Legacy License Plates, so expect to see them on our roadways soon.
The plate costs $50 for either the sequential or the personalized plate. The 1960s Legacy License Plate can be ordered online, by mail, or at your local DMV field office or auto club.