Update: Fire Weather Watch Issued For Stanislaus Forest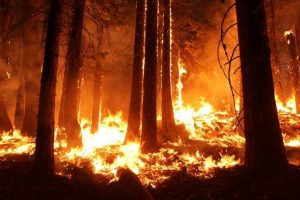 Forest Fire

View Photos
The National Weather Service has issued a Fire Weather Watch for the Stanislaus National Forest, which is in effect from Friday afternoon through Sunday evening.
This is due to the potential for dry lightning.
Monsoonal moisture will stream into the area bringing thunderstorms over the Sierra Nevada each afternoon and evening. Some thunderstorms may continue to develop overnight. A few isolated thunderstorms may spread over the Mother Lode. Thunderstorms may have limited precipitation initially but will gradually become more wet over the weekend.
Gusty winds of forty to fifty mph are possible with any thunderstorms that develop, which could quickly spread any fires started by lightning.
Wetter thunderstorms could continue in the Sierra Nevada next week containing more rainfall and the potential for more fire starts.
A Fire Weather Watch means that critical fire weather conditions are forecast to occur.
Additionally, very hot weather returns this week with widespread triple digits expected in the Central Valley beginning today.
The hottest days of the week are expected to be both today and Friday. Central Valley temperatures will range from 100 to 112 degrees.
Heat-related illnesses and impacts are possible and/or likely if actions are not taken. Extra heat precautions should be made for outdoor events and outdoor workers.