Calaveras Supes Sign Budget, Hire New Executive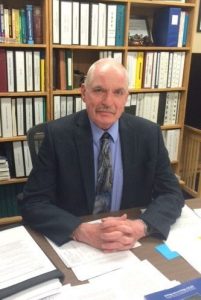 Brian Moss, Calaveras County Asst. CAO

View Photos
San Andreas, CA — The board of supervisors inked in a finalized budget for Calaveras County and a new right-hand for Chief Administrative Officer (CAO) Shirley Ryan.
At yesterday's meeting, with regard to the budget, Ryan says, "There were no changes. It went very smoothly — the board adopted all components of the fiscal year 2015-16 recommended budget unanimously." As previously reported, the budget of $121,533,593 includes total appropriations of $4,209,949 and creates 20 county positions.
The board gave Ryan, whose five-person office has been shorthanded for several months now, another cause for relief by approving a candidate to fill the county's Assistant CAO position. "After a bit of a lengthy recruitment…I extended an offer…it was accepted, and Brian Moss who is currently the Environmental Management Agency department head has accepted the position," she states. Obviously pleased, she adds, "I think he will bring a lot of expertise in areas such as land use and environmental health/animal services to the administrative office [and] will be a really valuable member of the team."
Moss, who has been with the county for 19 years, will begin working at his new post once a transition plan is determined, as his replacement will have to be appointed, something the supervisors plan to discuss in closed session at their June 30 meeting, according to Ryan. The new Assistant CAO, who she says currently makes $122,324 in his present position, will begin his new one with a $129,126 base salary.
Yard Waste, Road Planning 
As anticipated, solid waste fees will remain at $150 per residential parcel for the next fiscal year as the supervisors approved that consent agenda item. On a somewhat related topic, a previous hauling agreement with Tiger Lines LLC  was extended with a hefty "not to exceed" increase of $75,000 to cover an increased need to remove chipped wood and yard waste from the county landfills. "It's due to the drought and expectations of CalFire for residents to clean their lots — there's more pine needles and yard waste than normal," Ryan affirms. The go-ahead will fuel hauling activities from the maxed out Red Hill Annex facility, now temporarily closed.  Now looking into air curtain burner technology, the county expects to shortly put out a request-for-proposal to purchase the one just budgeted for to the tune of nearly $175,000, with hopes, Ryan says, to have it in service, ahead of next fire season.
Public Works also reported on its planned capital projects within the county over the next five to 15 years. In the short-term, the now underway Highway 12/26 intersection and Stagecoach Road/Railroad Flat Bridge are scheduled to complete before the end of this year; Hawver Road Bridge construction. off Gold Strike Road in San Andreas, is slated for 2016. Of the county plans, Ryan comments, "The biggest struggle is, because the funding for the bridge projects are reimbursable costs, we have to expend the money, claim the costs and wait for reimbursement, so it limits the number of projects we can do in a year because of cash flow."