Updated: Fire In Alpine County Grows To 8,000 Acres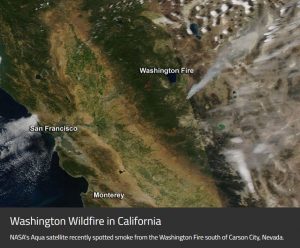 NASA's Aqua satellite recently spotted smoke from the Washington Fire south of Carson City, Nevada.

View Photos
Updated at 12:30pm: A fire burning in Alpine County has grown to 8,000 acres. This morning at 6am a larger type II incident command team took over operations. Both Highway 4 Ebbetts Pass and Highway 89 Monitor Pass remain closed near the fire. Several nearby campgrounds have been evacuated. The fire remains 10% contained.
Original story at 6:10am: Markleeville, CA — A lightning caused fire in Alpine County has grown to 6,500 acres.
The Washington Fire is about eight miles south of Markleeville, and 13 miles southwest of the Double Spring subdivision, which consists of 200 homes. The fire has been moving to the north/northeast. It has resulted in the closure of Highway 4 Ebbetts and Highway 89 Monitor Pass. The fire is estimated to be 10% contained. Extreme winds yesterday slowed the suppression efforts. 255 firefighters are now on scene.
Also, the Sky Fire near Oakhurst is now 40% contained, and holding at about 500 acres. 690 firefighters are on scene. Several nearby campgrounds remain evacuated.