Meeting On Rim Fire Reforestation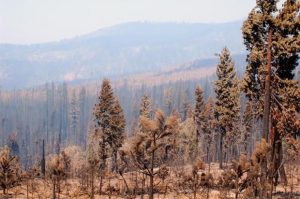 Rim Fire Burned Area

View Photos
Sonora, CA — The Forest Service will talk about different alternatives for reforesting the Stanislaus National Forest, post Rim Fire.
Forest Supervisor Jeanne Higgins reports that 65 comments were received during a 45-day scoping period. She notes, "Now our goal is to provide the community an opportunity to review the draft alternatives that were developed to address the concerns that were raised. These alternatives will be analyzed in the Draft Environmental Impact Statement, which is expected to be available for review in the fall."
Anyone that has an interest in how the landscapes burned by the Rim Fire will eventually be restored is encouraged to attend. The primary goals are to return a mixed conifer forest to 30,065 acres, restore old forest for wildlife habitat and connectivity, reduce hazardous fuels for future fire resiliency, and eradicate noxious weeds.
The workshop is open to anyone that wishes to attend. You are asked to RSVP by July 1st to gdempsey@fs.fed.us so that pre-workshop materials can be sent in advance. The meeting will be at the Forest Service Supervisors Office at 19777 Greenley Road, July 8th, from 9am – 3pm.