Brown Expected To Sign New Budget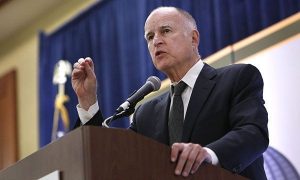 Governor Jerry Brown

View Photos
Sacramento, CA — State lawmakers have formally passed a new spending plan for the fiscal year that starts July 1st. It was approved in both the Senate and Assembly on Friday, and is expected to soon be signed by Governor Jerry Brown. Democrats lined up in support of the budget and Republicans voiced many concerns.
Senate Democratic leader Kevin de Leon has released a statement saying, "This budget strikes a responsible balance between strengthening our long-term fiscal foundation and investing in the economy of today and the workforce of tomorrow,"
Assembly Republican Leader Kristin Olsen responds, "While the budget deal that we voted on is based on fiscally-sound revenue numbers, there are still many problems with this spending plan.  The majority party has passed two budgets in two days that fail to address California's priorities – water, education and transportation infrastructure."
The Associated Press has written a report that breaks down what is included in the new budget, and points out items that did not make it. You can read it below.
WHAT'S IN THE BUDGET:
The budget that takes effect July 1 allocates billions more for schools — from kindergarten through community colleges — and channels additional money to schools with high levels of poor children and English-language learners.
Public colleges and universities also will get more support.
The budget adds thousands of state-subsidized child care and preschool slots while increasing pay for teachers and caretakers in those programs; establishes an earned income tax credit to help up to 2 million working Californians; and adopts an amnesty program for residents who can't afford to pay off spiraling court fines and traffic penalties.
There is also $40 million to begin extending subsidized health coverage to children from poor families in the country illegally.
WHAT'S NOT IN:
The spending plan leaves in place a cap on welfare payments for low-income women who have more children. It also lacks extra support the Legislature had approved for transportation, job coaching and housing for people with autism, Down syndrome and cerebral palsy.
Lawmakers promised to pursue more funding for programs that aid developmentally disabled people later this summer.
WHAT'S NEXT:
The Legislature will hold two special sessions to address how California pays for roads, highways and other infrastructure, as well as Medi-Cal, the state's health care program for the poor.
The administration estimates there is a $5.7 billion annual backlog in road repairs, which lawmakers have proposed to fill by increasing fees on gasoline, licenses and vehicle registration and redirecting other state money.
Brown wants financial fixes to Medi-Cal, which covers more than 12 million Californians, or nearly one-third of the state population.