Updated: Drift Smoke Resulting From Several Fires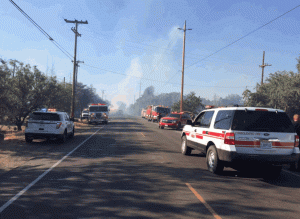 Fire Near Modesto

View Photos
Sonora, CA — Some notable drift smoke is appearing in areas of the Mother Lode.
As reported previously, there are several fires that ignited yesterday in the region. The Sky Fire near Oakhurst is estimated to be around 200 acres, and there is no containment. Fire officials report that it has the potential to grow to 600-1,000 acres in the next couple of days. Several homes in the area of Sky Ranch Road have been evacuated, and the American Red Cross has set up an evacuation center at the Sierra Vista Presbyterian Church in Oakhurst. 300-400 homes are considered in danger. 200 firefighters are currently assigned to the incident.
The Triangle Fire in Mariposa County is 35 acres, and it has resulted in homes being evacuated along Triangle Road, Carter Road and Nickel Plate Road. The forward spread has been stopped.
Three homes and multiple other structures burned in a fire north of Modesto yesterday afternoon. Several locations were evacuated in areas between Modesto and Escalon. Fire officials were estimating that it burned 40-50 acres, and it is now 100% contained.