Woman Tries To Run Over Clerk At Sonora Restaurant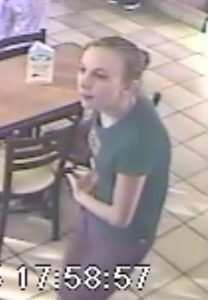 Woman supsect in Sonora Subway Assualt

View Photos
Sonora, CA — Sonora Police are searching for a woman and man in connection with an attempted assault with a deadly weapon at the Subway Restaurant in Sonora.
The incident happened at 7:09 p.m., Sunday, at the sandwich shop located at 665 S. Washington Street. Once on scene, officers questioned the clerk involved, who told them that a female customer confronted her because she did not like her sandwich. The customer proceeded to throw her sandwich at the clerk, hitting the clerk in the stomach. The  customer and then threw her drink at the clerk, as well.
Chief Mark Stinson reports the customers left the restaurant and got behind the wheel of a late model 1990, gold four-door Honda sedan, while a male entered the passenger side. Chief Stinson adds, "The clerk followed the customer out of the business while speaking with an emergency dispatcher on the phone. When the customer observed the clerk in the parking lot talking on the phone, she accelerated the vehicle and swerved at the clerk, in an attempt to hit the clerk with the vehicle."
Police describe the female customer as a white in her 20s, around 5'7' to 5'8" with medium-length blond hair. The male is white and in his 20s. Their photos, taken by surveillance cameras in the restaurant, can be seen in the box in the upper left.  Chief Stinson says they have already received numerous calls with a name of the possible female suspect but he is not releasing the name at this time, as police have not been able to locate the woman.
If you have any information on this incident, please contact the Sonora Police Department at 209-532-8141.