Tuolumne County Arts Alliance Celebrates 45 Years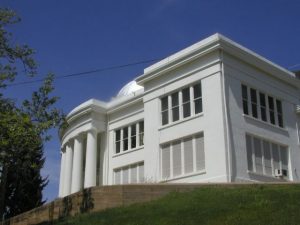 Sonora Dome

View Photos
The Tuolumne County Arts Alliance is celebrating its 45th birthday this Saturday and the public is invited to come celebrate at the campus and find out in what ways the TCAA is preparing for big things in the near future.
Connie O'Connor the Executive Director for the Tuolumne County Arts Alliance (formrly the Central Sierra Arts Council) was Thursday's KVML "Newsmaker of the Day".
The campus for the TCAA is located on Barretta Street in Sonora, in the old Parent Nursery School Building on the north side of the Dome.
The birthday celebration from noon until 4 pm this Saturday includes open houses which includes three buildings that features a dance studio, KASA classes and a nearby Sonora Lions Club Park where hot dogs will be served.
Music will be provided by the Brothers Strong.
Tuolumne County's public agency for the arts has worked to promote arts in the community since 1970. This is done with various school programs and  public programs and events.
Working with the California Arts Council, the Tuolumne County Arts Alliance strives to strengthen our community through the arts.
Despite the lack of consistent local government funding throughout those years, the Arts Alliance has existed and indeed thrived,  through hard work,  a committed membership, leadership, boards of directors, and constant fundraising to accomplish this mandate.
The Arts Alliance is funded mostly by membership dues, occasional grants and by Tuolumne County when the budget allows.
For all of the information about the Tuolumne County Arts Alliance and the dance classes, off campus events and fundraising opportunities, log onto www.tuolumnecountyarts.org
The "Newsmaker of the Day" is heard every weekday morning on AM 1450 KVML at 6:45, 7:45 and 8:45am.