Calaveras Locals Injured In Weekend Crashes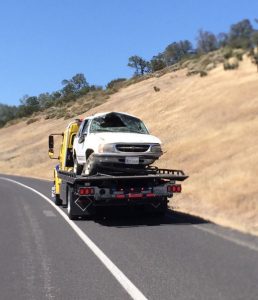 Pool Station Road Accident; Copperopolis-Angels Camp Vicinity, June 12, 2015

View Photos
San Andreas, CA – A Vallecito man suffered major injuries in a solo collision in the late afternoon Friday and two women from Angels Camp and Copperopolis received minor injuries in a Sunday accident.
Friday's crash occurred as Anthony Bettencourt, 51, of Vallecito, was northbound on Pool Station Road near Highway 4 in Angels Camp around 4:45 p.m. According to the California Highway Patrol (CHP) San Andreas Unit, Bettencourt was driving a 1992 Dodge Ram pickup truck at an unknown speed, when for unknown reasons he swerved left, crossing the southbound lane on Pool Station and struck a barbed wire fence before crashing into a tree.
Bettencourt subsequently was air lifted to Memorial Medical Center in Modesto for treatment. According to the CHP while an investigation continues, alcohol is reportedly not a factor in the incident.
On Sunday afternoon, a crash that occurred in Copperopolis sent one woman to the hospital with minor injuries. The accident happened just before 2 p.m. along O'Bryne's Ferry Road north of Black Creek Drive.
According to the CHP, Sandra Hoffman, 59, of Angels Camp, was driving a 2013 Chevy Equinox north on O'Bryne's Ferry at approximately 55 mph as Anna Malek, 69, of Copperopolis, was southbound in a 1998 Ford Explorer, driving at a similar speed. The CHP report states that, for unknown reasons, Hoffman drove her SUV across the painted double-yellow lines and collided head on with the Ford Explorer. Both vehicles wound up down a dirt embankment on the west side of the roadway; Malek's Explorer rolled over, landing on its left side.
While both drivers sustained minor injuries, a ground ambulance transported Malek to Mark Twain Medical Center for further treatment while Hoffman reportedly chose to seek her own medical assistance. Alcohol is not considered a factor in the crash, which remains under investigation.