Awarding Emergency Responders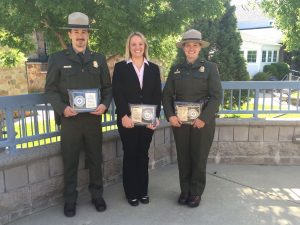 Mariposa County Health Department Honors Yosemite EMS workers (From right to left: Ranger Dave Hahn, Nancy Phillipe, and Ranger Heidi Schlichting

View Photos
Yosemite, CA – When emergencies strike in Yosemite National Park these three responders go above and beyond, according to the Mariposa County Health Department.
In a recent ceremony held in the county, the department honored Ranger Heidi Schlichting as Paramedic of the Year; Ranger Dave Hahn for Emergency Medical Technician (EMT) of the Year; and Nancy Phillipe with the title of Emergency Medical Dispatcher (EMD) of the Year.  Park spokesperson Scott Gediman says many people probably do not realize all the work these rangers do for the park. "We just get thousands of calls a year…with Yosemite National Park getting four million visitors a year our rangers, our paramedics, our EMT's and our dispatch center is incredibly busy. They're dealing with a lot of situations going on year round. So, we couldn't be more proud that these professionals that were recognized."
Schlichting has been a paramedic for 10 years and works in the Park's Wawona District.  Park officials reports her nomination stems from facilitating numerous EMS trainings.  Hahn's, a 21-year veteran EMT and works in the Yosemite Valley.  Hahn's nominated came from his dedication to his job as park officials say he frequently picks up extra shifts on the ambulance to make sure the park is covered.  Phillipe is the Emergency Communications Center Manager for the Yosemite National Park.  She has been a Dispatcher for 13 years.  Park officials boast, known for her clear and concise radio communications, Phillipe remains patience during high-stress situations.