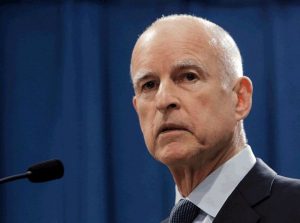 Jerry Brown

View Photos
Governor Jerry Brown took part in a drought forum at USC last Tuesday night to discuss water conservation.
Brown was Friday's KVML "Newsmaker of the Day".
The "California Conversation: Water" was a question and answer session with questions asked by Austin Beutner, publisher of the Los Angeles Times and San Diego Tribune.
Discussing the state's future in the midst of a severe drought, Brown noted conservation "is a challenge for all the people of California."
"Conservation, recycling, storm water capture, rain water capture, toilet to tap … we have to reuse this precious resource," he said.
While Brown was in Los Angeles, a group of anti-fracking activists claimed Brown isn't doing enough to stop water-wasting and water-pollution.
"We don't think there's responsible climate policy, we don't think there's responsible drought policy, unless there is an immediate moratorium on waste water injection wells," activist Walker Foley told CBS television in Los Angeles.
A report just published by the U.S. Environmental Protection Agency shows fracking has not had a negative impact on drinking water supplies.
The "Newsmaker of the Day" is heard every weekday morning on AM 1450 KVML at 6:45, 7:45 and 8:45 am.