Sonora High 'Close' To Selecting New Superintendent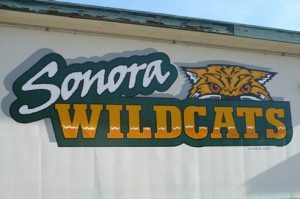 Sonora High School

View Photos
Sonora, CA — Clarke Broadcasting has learned that the Sonora High School Board of Trustees is in negotiations with a candidate and tentatively plans to announce Superintendent Dr. Mike McCoy's replacement on Friday.
On Tuesday, the board interviewed its three top candidates, each of whom were given an hour to address the board and answer the same questions posed by the board, in order to make it a fair process, according to Board President Robert Lyons. "Unanimously, we all agreed there was a top candidate, but I'm not at liberty to say who that was," he shares. "We are in negotiation with our top choice. By Friday, we should have determination and a signed contract, I should hope."
Lyons would not comment on whether the person was a local or outside person. As reported last month, the board asked Tuolumne County Superintendent Margie Bulkin's office to lead and facilitate the search. At that time, Bulkin reported that around 20 "highly qualified" candidates being considered were predominantly from California but there were also candidates from five other states.  Lyons explains that, during the six-week search, the board whittled down that number to five or six who were also interviewed, ahead of Tuesday's session with the three finalists.
In anticipation of closing on the position, a special meeting is set for this Friday, June 12 at 10 a.m. in the district office on School Street. Lyons says if a contract has been hammered out, the board will vote on it in closed session and then announce it in open session immediately afterwards.
As reported earlier, Dr. McCoy has completed his superintendent's contract with the district, but will work through the month. He has already started at his new job as superintendent of Muroc Unified School District in Kern County.